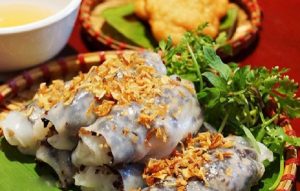 INGREDIENTS:
200gr rice flour
60gr cassava flour
500gr milled pork
Fresh cool water
10ml belostomatid oil
4 cloves of garlic
4 dried wood ear mushroom
½ allium (western onion)
1 lemon, chili, vegetable oil, fresh onion, allium ascalonicum
Dipping fish sauce, sugar, salt
PREPARATION
Put the mushrooms in a deep bowl, cover with water and soak for 20 minutes, then drain and thinly slice.
To make the batter, combine rice flour, tapiocaflour and salt with 600 ml cool fresh water. Now whisk until the flour dissolves and forms a smooth batter.
COOKING
Heat a non-steaky pan over medium heat, and then add 2 tablespoons of vegetable oil. Fry the garlic and shallot until fragrant, then add the pork, mushrooms, fish sauce, sugar, and pinch of salt and pepper.Stir-fry for 4 minutes, then transfer to a bowl and set aside.
Brush a round tray with oil and place beside the stove. Heat a large nonstick frying pan over medium heat, and add enough oil to coat the base of the pan. Pour a small ladleful (2 to 3 tablespoons) batter into the pan, turning the pan in a circular motion to cover the base with a thin layer of batter.Step 5: Cover the steaming pan with a lid and cook for 30 seconds.Step 6: Remove the lid and slide the thin noodle sheet onto your oiled tray. Scoop 1 tablespoon pork mixture onto the noodle sheet, fold 2 sides in, and then fold over to form a roll.Step 7: Transfer to a plate. Repeat this process using the remaining batter and pork mixture, adding oil to the pan as necessary.Step 8: Top the rolls with pork terrine, fresh herbs, bean sprouts, fried shallots, and cucumber. Dress with fish sauce – nuoc cham and serve with sliced chili.
PRESENTATION
Present about 10 cakes on the plate, add dried onion on the cake, serve with a lot kinds of herb and fish sauce
SENSORY
The rolled cake is extremely thin and light, delicate. The rice covers all mixture of pork, mushroom, onion. It is tasty and attractive smell. The cake should be soft and harmony taste