Vietnamese quote:" when we live, the ground is just a living place. When we leave, ground becomes spirit". If you have ever spent time in Hanoi, it is really easy to recognise a simple but unique beauty of Hanoi: Trà đá vỉa hè – Tea served on the side walk by street vendors.
Everything needed by owner to open a trading place are just some plastic small chairs, a small table or sometimes a porous box instead of a table. It is interesting that this small place provides and summarises the fastest social and secured or economic news. It appears on every streets, corners from busy city center, in front of luxury shopping mall to hospital, schools, even to outskirt villages and becomes a major part in Hanoian's perception.
In the 'Hang Giay Street' – "Shoes street", there are always some elders, they come here to drink a cup of tea and chit chat together, they tell the stories in their life and share the living experiences.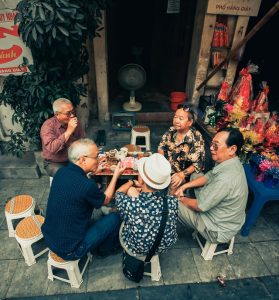 In 'Hang Vai Street", when you walk out of house, 'Tra da via he' is already available in front of your eyes.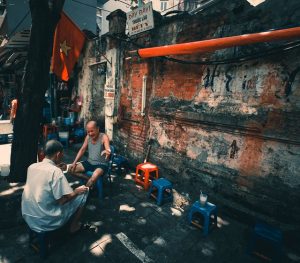 Visitors could easily to catch this picture in every streets in Hanoi.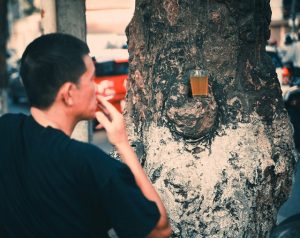 It does not display, it is really simple and small; however, this scenery affects strongly to heart of Hanoian. It also become the passion of many photographers. The pic taken in Bat Dan street.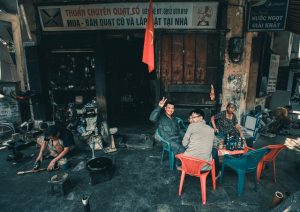 In Hang Dieu  Street, they just need a tea box, peanut box, a traditional smoking tool, and several small plastic chairs, the guest will concentrate. In this amazing place, they can achieve a lot of fastest news from rising electric price, social news, water system trouble, traffic accidence or trading situation.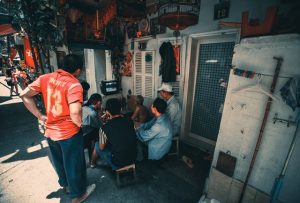 An 80 year-old elder living in 'Hang Chi Street' shared that she sold tea because she wanted people visiting her home and told their stories, not because of lacking money.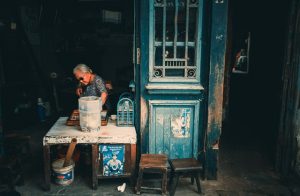 Hanoi with more than 1000 years old recording in its children's heart the ancient and peaceful beauty that becomes the luggage to follow them in their whole life. If they miss their mother home town, it immediately appears it's familiar scenery.
A street vendor with her simple trading tools in 'Hang Chieu Street' – Mat Street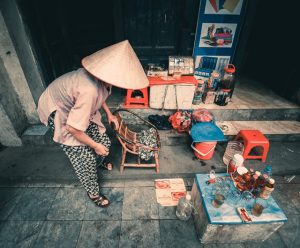 An elder man took a rest besides tea street. Tea Street have never listed on the art of Vietnamese tea; however; it appears every where from city center to remote areas.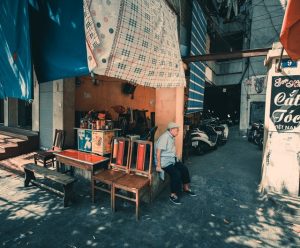 From the this generation to other generation, Hanoi's people has grew up beside cup of tea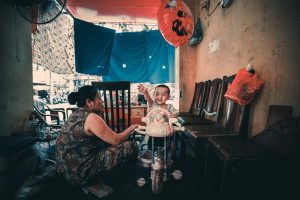 These are the typical machines needed by Tea street vendors.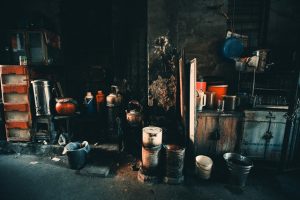 Mr Huan (82 years old, living at Quynh Mai Street, Hai Ba Trung District) said that he has sold tea for more than a decade. It became his job, combined earning a little money and reducing homesick, he came from a small village far from Hanoi.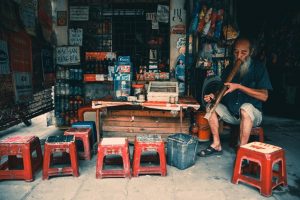 A boy drink cup of tea. Tea Street does not classify income, gender, colour, nationality or appearance.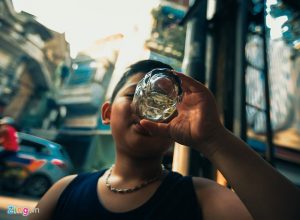 It surely is a memory staying in heart of visitors in Hanoi who are curious with the culture of more than 1000 year-old city