Pho,the Vietnamese noodle soup is ranked 3rd in the world of the healthiest ethnic cuisines. Goi Cuon or spring rolls is listed on the "World's 50 most delicious food" list. Every citizen in the world knows about 'Pho' and 'Goi Cuon' is an iconic Hanoi cuisine. However from a local foodie's perspective, we highly recommend 10 dishes that go beyond Pho and Goi Cuon.
1. Xoi – 'Sticky Rice'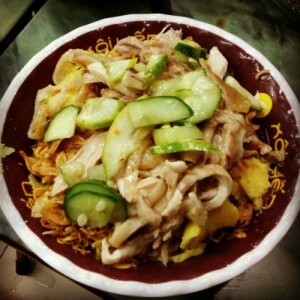 The concept is really simple: sticky rice with plentiful toppings including corn, beans, mushroom, boiled egg, grilled chopped pork, fried chicken, and so on. It is absolutely delicious and nutritious.
Where to find it: The most famous place is Xoi Yen, an institution in Hanoi. Located at the corner of Nguyen Huu Huan Street and Hang Mam Street. A bowl of sticky rice is under US$1, and various meet toppings around US$2. It is quite cheap for a full meal. It opens daily from 5:00 AM to 1:00AM the next day. The store is closed on national holidays.
2. Cha Ca La Vong – 'Grilled fish'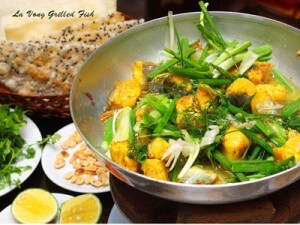 It is must-not-miss in the book of Hanoi food. The combination of ingredients including turmeric, dill, shrimp paste and fish sauce – delivers an intriguing taste with chili, fresh silky noodles and a mountain of plentiful herbs. Once the various components are assembled, the cooking is fast, and the payoff is worth the effort.
Where to find it: The dish happens to be the name of the street where many restaurants specifically sell just 1 dish 'Cha Ca'. Cha Ca La Vong is 100 – year-old restaurant with a simple menu only serving Cha Ca.
14, Cha Ca Street, Hoan Kiem District, Hanoi
Price: around US$7-8
Opening daily
3. Bun dau mam tom – Vermicelli & tofu with shrimp paste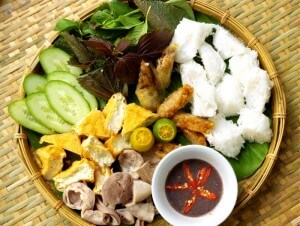 Bun dau mam tom which is a popular dish in Hanoi is favourite for all Vietnamese people. The store, that we intend to introduce to you, is just for the real foodie. Why? Although it is next to Hoan Kiem Lake, it is located inside a small alley which only the foodie intending to eat this dish can find. It is worth the search. This dish consists of fried tofu, fishcakes, pork, and tightly compressed vermicelli noodle 'patties' cut into cubes. These are then eaten by dipping it into shrimp paste and accompanied with fresh herbs.
Where to find it: 29 Hang Khay Street, Hoan Kiem District, Hanoi (go straight to the small alley in this location about 50 meter, the width of alley is just about nearly 1 meter)
Opening daily
4. Banh Cuon Thanh Tri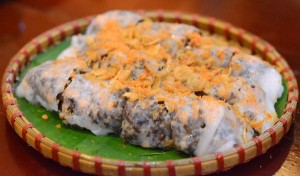 Do you know what 'Hanoi 36 Trading Streets' means? It means there are 36 streets in Hanoi's Old Quarter, specializing in one kind of product, such as: Sugar street, Mat street, Silver street, and so on.
Likely, there are several outskirt villages surrounding Hanoi producing one kind of product such as Thanh Tri village where the local people make rice- product, so we call this Rice roll is Thanh Tri rice roll. This name is not just about its source but also its brand name.
Banh Cuon Thanh Tri is made with pork and mushroom filling wrapped in freshly steamed rice paper, then topped with crunchy fried shallots. Fish sauce, chili, and fresh herbs are served alongside.
Where can find: at  banhcuonbahanh  26B, Tho Xuong Street
(located in the western south of Hoan Kiem Lake)
Price: around US$1
5. Che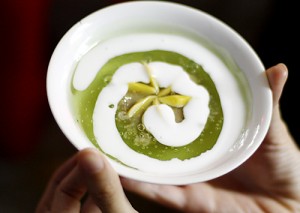 Che is a unique traditional Vietnamese sweet beverage, dessert soup or pudding. Vietnamese people just call 'Che' which is made with mung beans, black-eyed peas, kidney beans, tapioca, jelly, fruit (longan, mango, durian, lychee or jackfruit), and coconut cream. Other types are made with lotus seed, taro, cassava, and panda leaf. There is such a wide variety of district soups or puddings which may be served either hot or cold. We highly recommend Hot Indian taro soup.
Where can find: 31, Dao Duy Tu Street, Hoan Kiem District, Hanoi
Opening daily
Price: under a half of US$1
6. Banh Xeo – Sizzling cake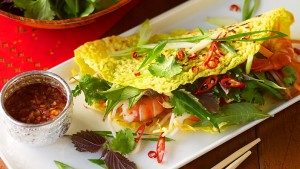 Banh Xeo is usually served for a snack for Vietnamese people typically had halfway through the morning, afternoon or late evening. It is made from rice flour, water, and turmeric powder, stuffed with slivers of pork, shrimp, diced green onion, and bean sprouts. In the different areas from the north to the south of Vietnam, there are some changes in using ingredients making sizzling cake.
Where can find: 22 Hang Bo Street, Hanoi
Opening daily
Price: Around a half of US$1
7. Thuy Ta Ice Cream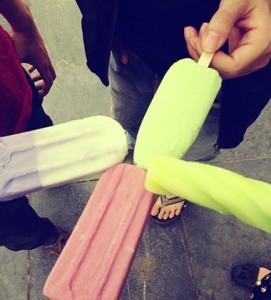 Thuy Ta ice cream has been around a long time – since 1945. Thuy Ta restaurant has produced ice cream and supplied to customers in Hanoi. Since then, the special flavor and high quality of Thuy Ta Ice cream has become familiar and famous in Hanoi as well as with foreign visitors. There are many flavours offered inclduing Fruits, Socola, Taro, Egg Banana, Green Bean, Green Sticky Rice, Lemon and so on.
Where can find: In the western north corner of Hoan Kiem Lake. In front of Thuy Ta restaurant.
8. Egg Coffee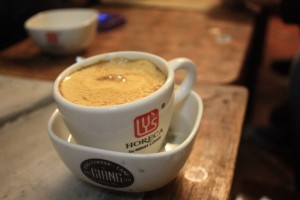 Egg coffee is distinct favourite drink of Hanoians. Egg coffee was created in 1946 when the milk was scarce by Mr Nguyen Giang, a  bartender for the famous five star Sofitel Legend Metropole Hanoi hotel. Although this was long ago the egg coffee recipe is almost the same as in its early days, with its chief ingredients being chicken egg yolk, Vietnamese coffee powder, sweetened condensed milk, butter and cheese. The coffee is brewed in a small cup with a filter before the addition of a well-whisked mixture of the yolk and other ingredients. The cup is placed in a bowl of hot water to keep its temperature.
Where can find: the original egg coffee shop established by Mr Nguyen Giang located at 39, Nguyen Huu Huan Street, Hoan Kiem District, Hanoi
Price: approximately US$1
9. Bia – Beer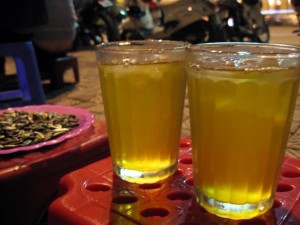 Street Beer is cultural not only of Hanoi people but also Vietnamese people all across Vietnam. After working the whole day, they enjoy some beer to relax and chat with their friends. The foreign tourists are really interested with beer culture in Vietnam. Unlike the restaurant atmosphere, on the street. a lot of people cheer together; they sing songs, even dance on the sidewalk. It is really chaotic, really noisy, and unique.
Where to find it: There is a long walking street specializing in selling beer with extra dishes named Ta Hien street. Every night it is crowded with local people and foreigners.
Ta Hien Street, Hoan Kiem District, Hanoi
Opening daily
Price: nearly a half of US 1$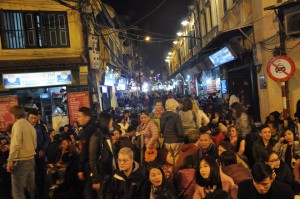 10. Tra Da – 'Fresh Green Tea'
It is so easy to recognize the small tables and chairs serving Green Tea on every sidewalks and corners in Hanoi. It becomes a familiar favourite place for Vietnamese people. Just take a rest, sit down on the small chairs, listen to the daily stories of the local sellers and watch the chaotic, bustling atmosphere from the traffic. It is absolutely fresh and healthy because of fresh ingredients like hot water and fresh green tea. You can order ice to make it cold.
Where to find it: Easily, either inside or outside of the Old Quarter, If you see the local people with several small chairs, here they are.