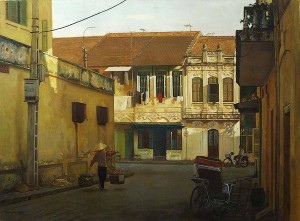 If you plan to travel to Hanoi, you may need a bigger bag as Hanoi is a haven for shoppers! Shopping in Hanoi, especially the Old Quarter, is famous for not only its bustling local markets and narrow shop houses but also luxurious shopping centers. We have compiled a list of very useful shopping addresses for all your shopping needs located in the Hanoi Old Quarter.
Hanoi Weekend night market
Add: Start from Hang Dao Street and head north to the edge of Dong Xuan market, approximately 2km. (Hang Dao Street, Hoan Kiem District, Hanoi)
Opening: Evenings from Friday to Sunday
Duration: from 7:00 PM to 10:00 PM
The night market is crowded year round. The overall atmosphere is very lively and bargaining is a way of life here. You can find the usual array of inexpensive t-shirts, fashion items, handicrafts, accessories, shoes, sunglasses and souvenirs, and so on at Hanoi Weekend Night Market.
The visitors can also taste the plentiful iconic delicious food and drink sold in the night market such as 'Che', ' pho cuon' – 'spring roll', 'banh mi' – ' Vietnamese sandwich', 'nem ran' – 'backed pork', and so on.
If you are lucky, you can watch the Hanoi Weekend night market cultural performances where locals in traditional costumes play traditional Vietnamese music as well as classical tunes.
Dong Xuan Market
Add: Dong Xuan Street, Hoan Kiem District, Hanoi (located in the north of Hanoi Old Quarter)
Opening: Daily
Duration: from 6:00 AM to 7:00 PM
Established in 1889, Dong Xuan market is housed within a four-story Soviet style building on the northern edge of Hanoi Old Quarter. It is known as Hanoi's largest indoor market where it exhibits and trads thousands of kinds of products including fresh dry agricultural products, souvenirs, accessories and clothing, as well as electronic and household appliances. It can be said that everything needed for everyday life can be found in the Dong Xuan market.
The ground floor is used for local shops selling fresh seafood, meat, and vegetables while the back section is used for pets (dogs, cats, fish, even mice). If you are looking for souvenir shops, go straight to the upper level where you can find stalls selling t shirts, fabrics, handbags, handicrafts, and more.
Surrounding Dong Xuan market, there are many shops where you can see artist products coming from Hanoi outskirt handicraft villages including Bat Trang ceramics, Dong ho drawings, Van Phuc Silk, Binh Da embroideries and sand paintings.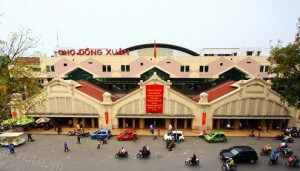 Camera stores
One common problem for travelers is your camera having a full memory card or dead battery. Therefore, if you want to buy any gadgets for your camera, the photo shops are located at the end of Le Thai To Street, Hoan Kiem District, Hanoi ( near to Hoan Kiem Lake). Other options are located at Ba Trieu Street or Hang Trong Street (at the west of Hoan Kiem Lake).
If you prefer buying cameras and accessories at the shopping mall, we highly recommended Pico electronics shopping mall which is considered as the most loyal brand in Hanoi. It is located at 35, Hai Ba Trung Street, Trang Tien Ward, Hoan Kiem District, Hanoi; far from Hoan Kiem Lake about 170m in the south.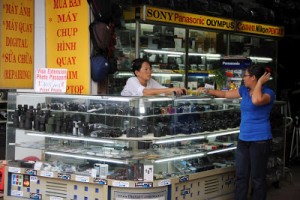 Shoes stores – Hang Dau Street
Add: Hang Dau Street, northern corner of Hoan Kiem Lake, near the Lo Su intersection
Opening: Daily
Duration: 9:00 AM – 8:00 PM
One of the interesting shopping facts about Hanoi is that practically all stores are concentrated in the vicinity of Hoan Kiem Lake. It is surprising at first sight; there are hundreds of vendors lining the streets and selling just one thing – SHOES. Including both man and woman footwear. There are plenty of choices for women, however; larger western men may not find the right size. Most of the footwear consists of brand names made at Vietnamese factories. There are also plenty of fake reproduction bags where Lo Su Street meets Hang Dau Street. The price is around $5 to $15.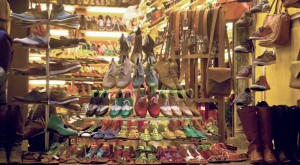 Silk and fabrics store – 'Hang Gai Street' – 'Silk Street'
Add: Hang Gai Street, Hoan Kiem District, Hanoi
Opening: Daily
Duration: 9:00 AM – 8:00 PM
Hang Gai Street is known as the best choice for high quality, fashionable silk materials, traditional Vietnamese apparel, and home furnishings. Stretching for 300m, the Silk Street contains fashion boutiques and local tailor shops in which the craftsmen are willing to personally make suits and dresses. If  you want to own a tailor made outfit during your holiday in Hanoi but have limited time, the suits can be ready within 24 hours, thought it's best to allow more time for a second fitting to make sure it is a perfect fit.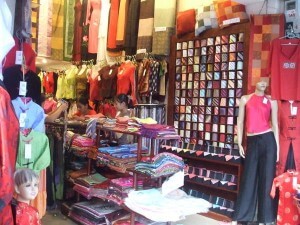 Trang Tien Plaza shopping center
Add: 24, Hai Ba Trung Street, Trang Tien Ward, Hoan Kiem District, Hanoi
(located at the corner of the intersection between Trang Tien Street and Hang Bai Street. In south-eastern Hoan Kiem Lake)
Opening: Daily
Duration: 11:00 AM – 8:00 PM
Trang Tien Plaza is where the famous and rich Hanoians go shopping for luxury items and international designer goods. This shopping mall is spread out over five floors with monumental and magnificent designers such as; Cartier, Burberry, Ermenegildo Zegna and Louis Vuiton occupying the ground floor. If you are looking for electronics and home furnishings, go to the upper levels on the second and third floor, while the international goods are available on the fourth floor. The fifth floor is reserved for excellent international restaurants.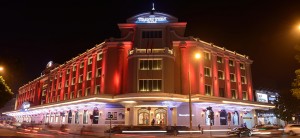 Hang Da Market
Add: Hang Da Street, Hoan Kiem District, Hanoi
Hang Da Market , which offers  more selection than Dong Xuan Market, is known for imported wine, flowers, second-hand clothes and fabrics. If you want to look for some stylish second-hand cloth items including dresses, coats, hand bags, skirts and jeans in perfect condition, this will be your favorite place. It is worth it to bring your camera because you will have the chance to capture the buildings elegant architecture.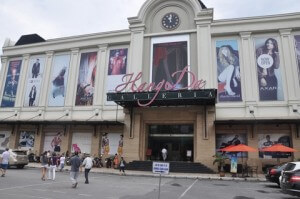 Book stores – Dinh Le Street
Add: Dinh Le Street, Hoan Kiem District, Hanoi (at the  south-eastern corner of Hoan Kiem Lake)
Opening: Daily
There are hundreds of book stores including new and old books with thousands of kinds of books and calendars located along Dinh Le Street. These famous bookstores are a favourite for local people and foreigners, from the elders to  teenagers, and even children. The first bookstores were established in the 1900s, the local owners have used their houses to sell the books. If you enjoy weaving through the alleys, go straight to the local house to find ancient books, this is the best place for you to discover old treasures. You can also buy the latest newspapers, travelling guided books, tourism information books or even novels. Whatever you want is available for you at Dinh Le Street.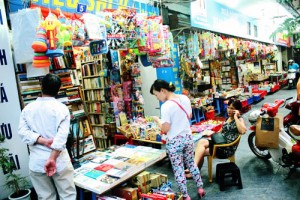 Sweet candies – Hang Duong Street – 'Sugar Street'
The street was built before the 15th century. It is known for one traditional kind of candy – 'O Mai' which is made from one kind of fruit and sugar.  The main fruit ingredient creates the taste of the candies. In Vietnam, this is traditional food bought by every family used in every national holiday such as Vietnamese New Year or bought as a gift for friends. It is worth a taste for Hanoi visitors. It is not only a delicious snack but also used as a medicine against cough, flu, headache, and sore throat.