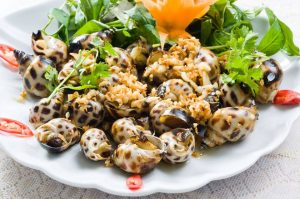 Ho Chi Minh City (Sai Gon) is the most bustling cultural exchange intersection in the south of Vietnam. The major travelers visiting the southern area in Vietnam usually stay at least 1 night in Sai Gon or couple of hours before moving to other attractions. In just snapshot period of time, let's take the time to discover Sai Gon. These following lists are the most delicious cuisines in Sai Gon , especially, useful for travelers and foodies. You can suggest further your favorite foods in the comment.
Com Tam (Cơm Tấm)
This one is absolutely dish must be mentioned at the first time when you travel to Sai Gon. This is iconic dish can be served in the breakfast, lunch, or even dinner.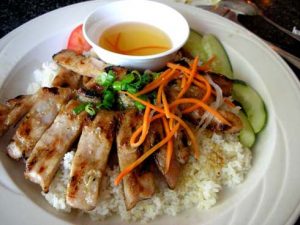 What does it mean for Com Tam? Com Tam means the rice made from broken rice. In the past the normal residents did not have a lot of money to buy the good rice, they used the small, broken rice instead of in the meal. Although the life standard has been upgraded, they eat the high quality rice daily, but the name 'Com Tam' still used to remind a difficult period of Vietnam's history.
The Com Tam restaurants usually serve 'Com Tam' with baked ribs, fried chicken, fried grilled pork. It is typical to add the herbs, a bowl of soup and a sugar sour fish sauce.
Where do we can find delicious 'Com Tam'? In the Phan Chu Trinh Street, Ho Chi Minh city, there are many Com Tam restaurants serving from morning to late evening.
     2. Banh Trang Trang Bang (Bánh Tráng Tràng Bảng)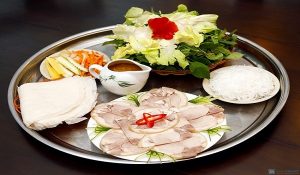 Banh Trang Trang Bang is fresh rice cake using to make rolling dishes. Even though the original dish came from Trang Bang village in Tay Ninh province, it becomes famous as a favorite dish of Sai Gon's people. There are many places selling Banh Trang Trang Bang, but Hoang Ty Banh Trang Trang Bang is the best one located at number 70, Vo Van Tan Street, Ho Chi Minh City. The most distinctive unique of Banh Trang  is must put into the drew to make it soft and tasty. Besides, the foodies serves the rolling dishes with the herbs from Trang Bang Village including more than 30 kinds of herbs such as basil, celery, lettuce, shiso, and so on. It is mixed of 5 tastes mentioning acrid, sweet, sour, greasy, and aroma.
          3. Hu Tieu Nam Vang (Hủ Tiếu Nam Vang)
Hu Tieu Nam Vang is the iconic noodle of people in the south of Vietnam. It is called funny as the multi-culture dishes because it was created originally by Cambodia's people and made by Chinese, and now, it is popular for people in the southern area of Vietnam.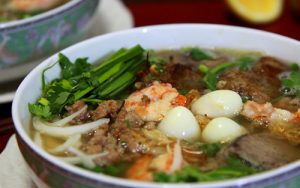 The foodies enjoy the variety of the ingredients. In the past, Hu Tieu used to serve with pork; however, Sai Gon's people add more ingredients such as shrimps, pig's liver, and egg. Absolutely, the herbs cannot be lacked with shallot, celery, bean sprouts, salad.
There are two types of Hu Tieu: Dry and wet. There are some famous Hu Tieu Nam Vang restaurants such as Hong Phat Hu Tieu (Vo Van Tan Street), the restaurants located at the intersection between Cao Thang Street and Nguyen Dinh Chieu Street in The Third Ward, Ho Chi Minh City.
            4. Keo Fish Hotpot (Lẩu Cá Kèo)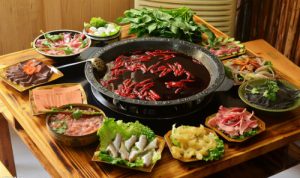 Hotpot is familiar dishes for everyone from the north to the south of Vietnam; however Keo Fish Hotpot is the iconic and authentic dish of the western south. 'Keo' Fish is one kind of fish which is small as a finger, slippery skin, and especially, put it into the hotpot when it is alive. Keo Fish do not have the strong bone, it is fresh and sweet, therefore, it is easy to eat. It is attractive for the harmony combination of three tastes including sweet, sour, and spicy.  'Lau Ca Keo Ba Huyen' is recognized as the most favorite location because of clean atmosphere, fresh ingredients, reasonable price with the nice services. 'Backed chili and salt Keo fish' is best choice for people at the first time.  The only remarkable notice is any extra dishes will be charged, you have to pay parking ticket. Besides, it is very crowded, it is necessary to check your bill before leaving.
           5. Shellfish and Crab (Ốc Cua)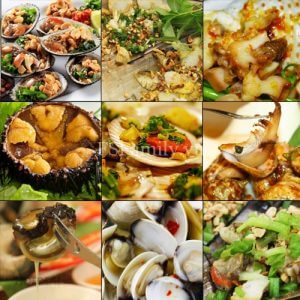 Shellfish and Crab are snack being loved by most of students and drinkers, especially in the evening. District 4 in Ho Chi Minh City has a series of shop that has plentiful and attractive menu. Oc Thao restaurant located at number 299 can be considered the highest quality in this area; however it offers the horizontal price affordable shops in others. Grill peppers and salt is highly recommended, or other choice is sweet sauce dishes. The restaurant also offer Curry Crab which everyone visited also referred to, enjoy the bread quite tasty.
Beside Oc Thao restaurant, closed to this area, Oc Oanh located at number 534 also received high satisfactions of foodies. In the lunch time, foodies can visit Oc Nhung – street vendors- at 228 Vinh Khanh. Oc Xinh number 12B, Khanh Hoi Street serves the strange kinds of Shellfish.